Headed to the 'Boro
McKenzie's Nate Whitsell excels in postseason to help the Rebels reach state
McKENZIE — As the postseason progresses, the top teams always seem to have scoring options. Teams with one or two seem to fail to advance.
For McKenzie, those options have been senior Ben Austin and junior Lucas King. But as the region tournament and sectional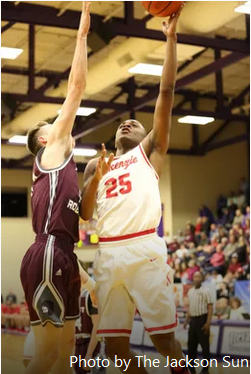 games have gone on, Nate Whitsell has shined.
Behind his 22-point performance – 18 coming in the second half – McKenzie advanced to the Class A state tournament for the first time since 1998 with a 69-57 win over East Robertson on Monday night.
"Nate was great," McKenzie coach John Wilkins said. "Each night we seem to have one other player step up. With the district championship, region championship and tonight, I think he likes the big moment.
McKenzie (28-3) will play in the Class A quarterfinals Thursday. The Rebels' opponent was to be determined on Tuesday.
With King's ability to distribute the ball and shoot from long range and Austin's domination inside as of late, other McKenzie players have been open.
"With Ben, teams are going to be doubling down on Ben going forward, but luckily we have a kid capable of taking advantage of that, which is going to put teams in a tough position going forward," Wilkins said.
Whitsell's stats don't always show up in the points column, but he had seven blocks that were key in the region semifinals win over Summertown. As the Rebels have played tough competition like Huntingdon, Summertown, Loretto and then East Robertson, Whitsell has been a clutch performer.
"We kept our composure when our opponents went on a big run," Whitsell said. "We kept calm. Tonight, I hit a couple 3's and was filling it. It was a good setup by my teammates."
So what attributes give Whitsell that ability? He can elevate and get off the ground quickly, and he anticipates well, Wilkins said. Whitsell also can stay on his feet and draw a charge.
But one thing is for sure: he knows how to bring it in the postseason. In 2018, he was named the District 11-A tournament MVP.
"He has been steady throughout the year, averaging eight to 10 points and five boards, but he plays at a higher level come tournament time," Wilkins said.
Austin scored a game-high 27 points for the Rebels.
While Whitnell enjoyed celebrating after Monday night's win, he said he isn't content with winning the program's third region title or hosting the program's first sectional game.
"This all feels great," Whitsell said. "But we have more that we want to win. We want to win state."